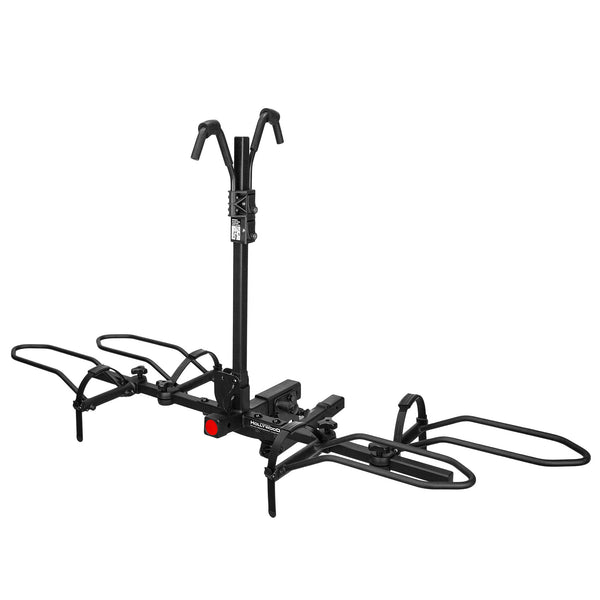 Sport Rider for Electric Bikes
$499.99
Sport Rider for Electric Bikes
---
The Sport Rider Bike Rack for Electric Bikes is our hitch bike rack designed specifically to carry electric bikes with any sized tire up to 5" wide. This bike rack can carry up to 2 electric bikes or standard bikes. If you're looking for an e-bike rack that works with bikes with fenders, look no further than the Sport Rider SE for Electric Bikes. 
This durable, strong bike rack includes new universal extra heavy-duty wheel holders for heavy load-carrying capacity. As with the Sport Rider SE, this hitch-mounted bike rack can fold flat against the car when not in use and can be tilted for easy access to the cargo area. Also includes a keyed-alike locking hitch pin, 8' security cable, and locking frame to keep your rack and bikes secure during travel. Features patented No Wobble-No Tools Hitch Tightening System. For 2" hitches only.
Read more >
Find a Retailer Near Me
THE ULTIMATE BIKE RACK FOR YOUR E-BIKES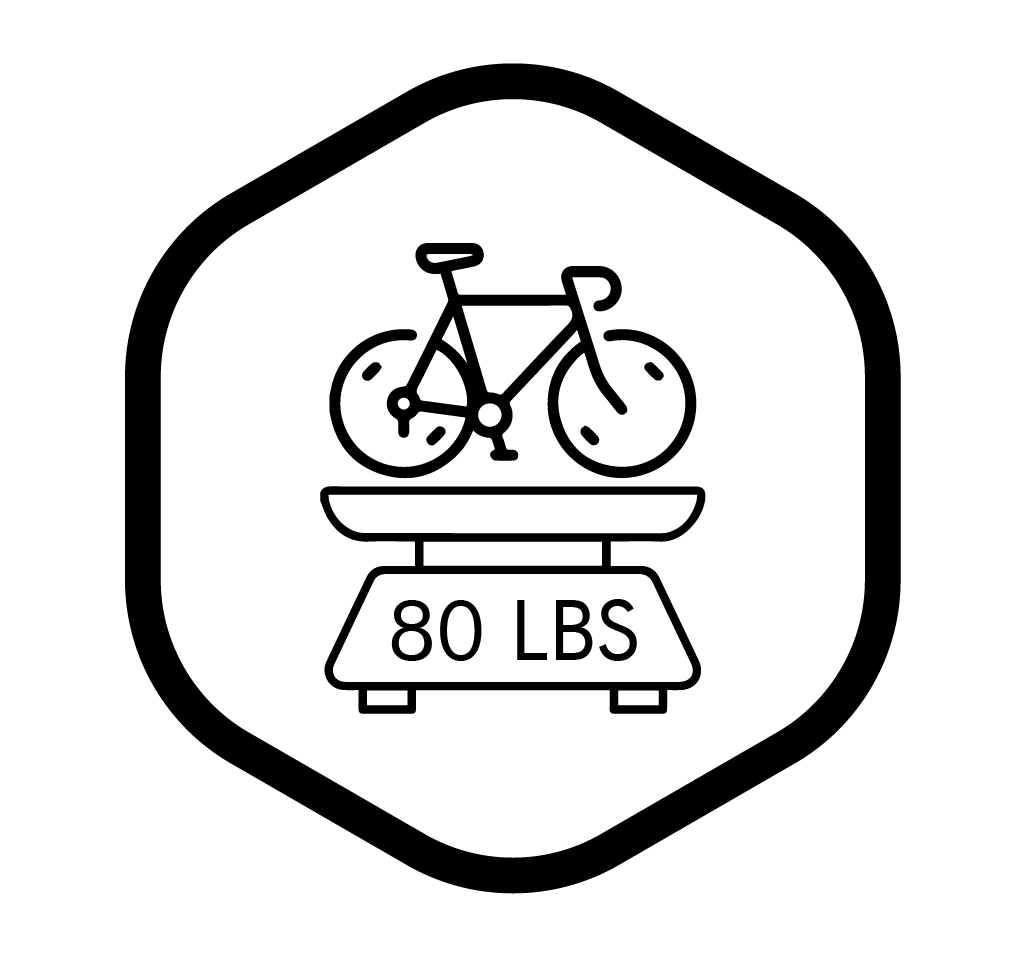 BIKE WEIGHT CAPACITY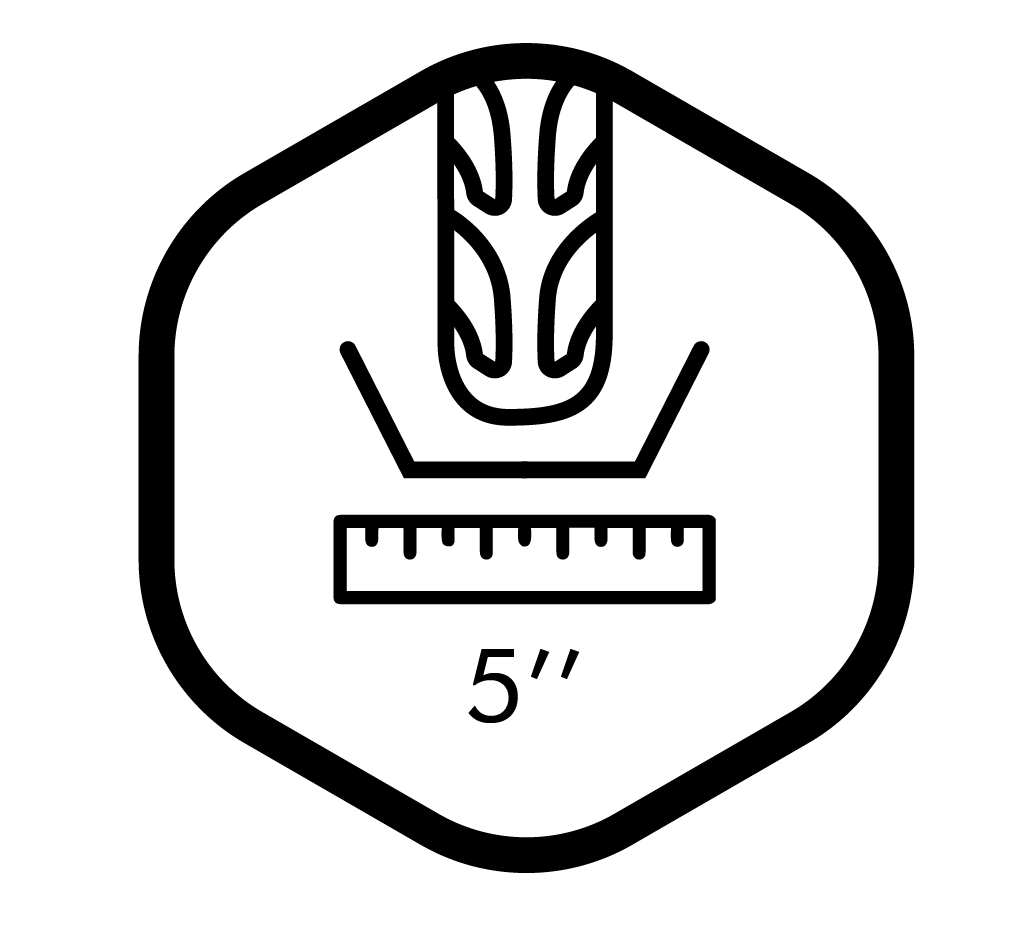 MAX. TIRE WIDTH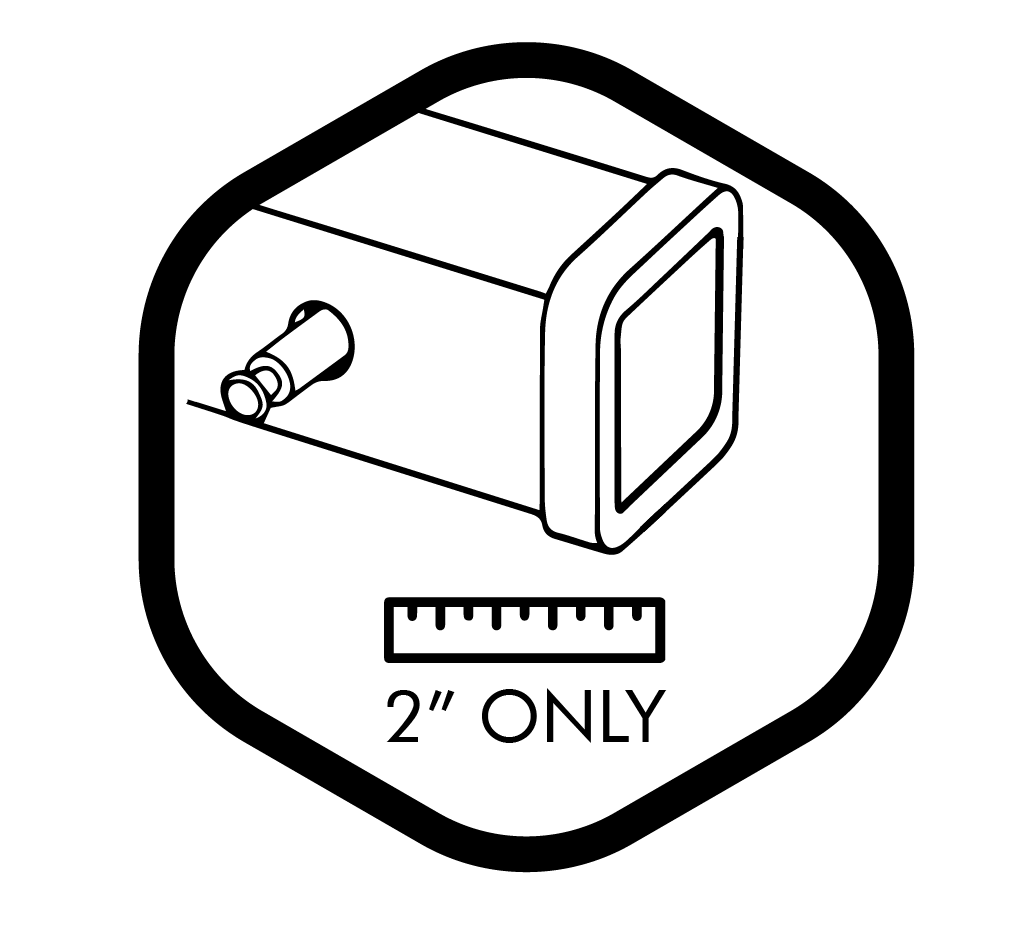 FOR 2" HITCH SIZE ONLY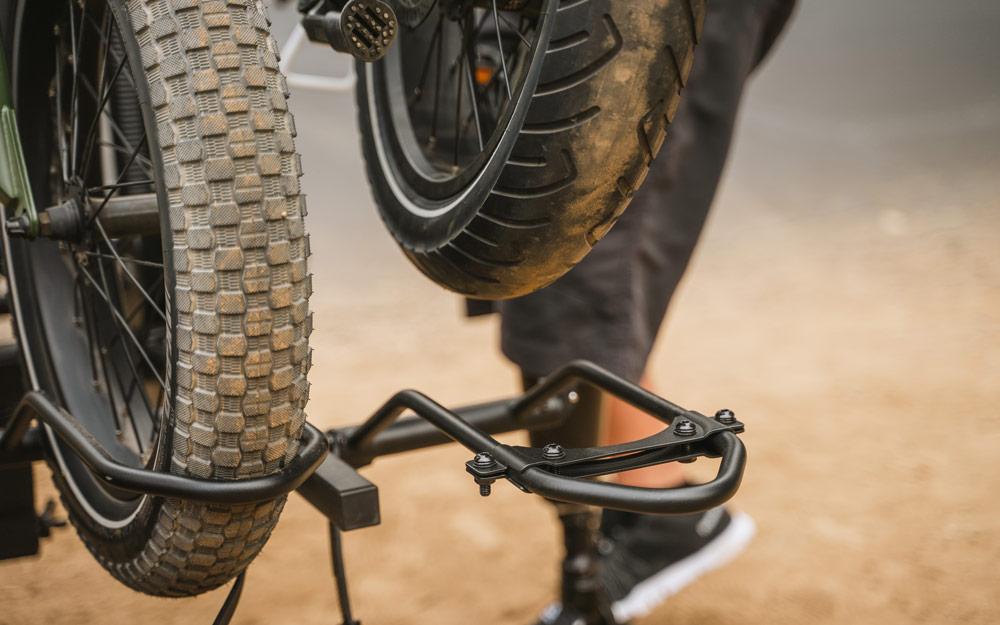 UNIVERSAL WHEEL HOLDERS
Loading & unloading your E-bikes has never been easier — easy on your back and easy on your bike!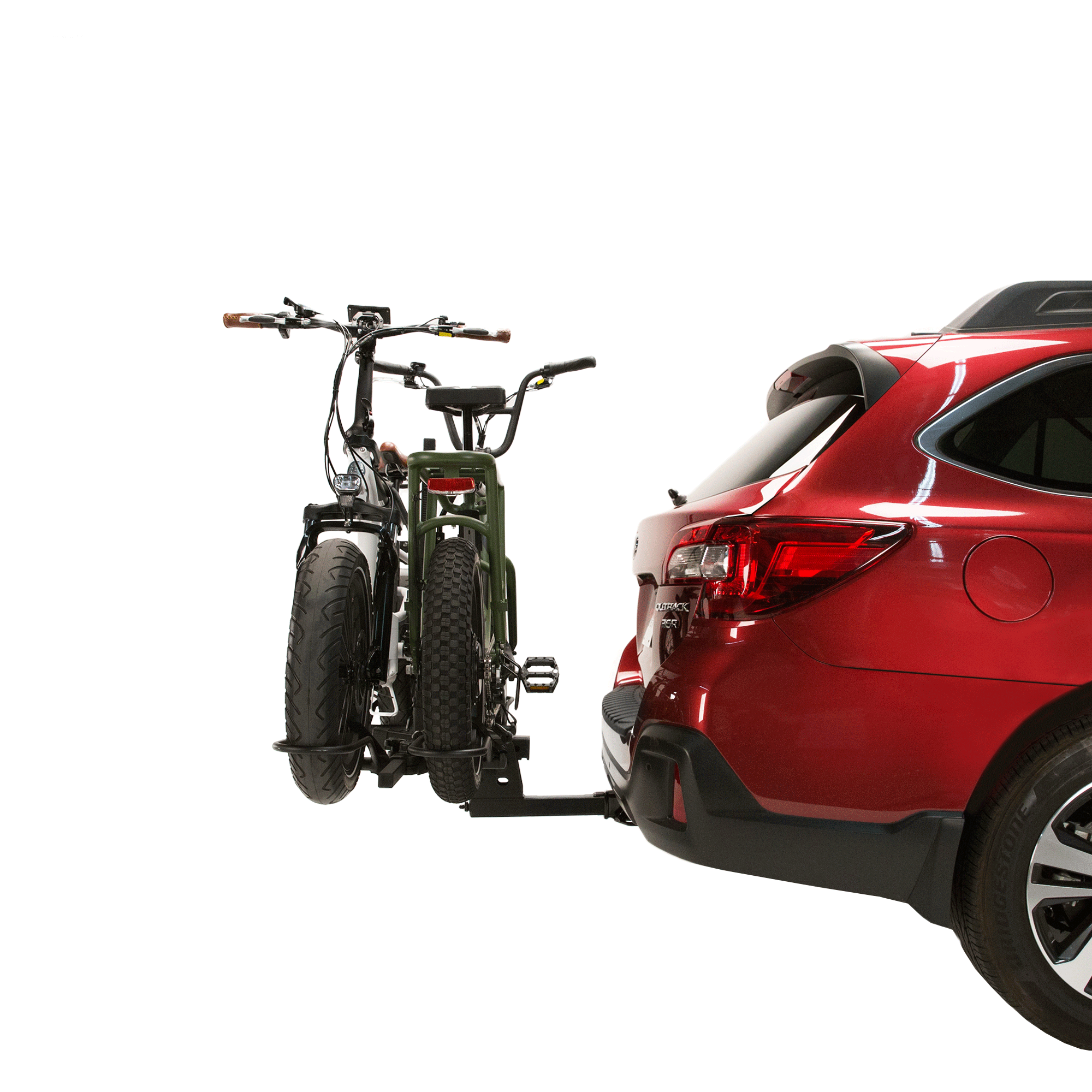 TILTS DOWN FOR EASY TRUNK ACCESS
The Sport Rider bike rack folds up when not in use and can tilt down for rear cargo access.
DESIGNED purposefully FOR heavy electric bikes with fat tires.
TAKE YOUR E-BIKES EVERYWHERE
Meticulously crafted to transport electric bikes of any tire size, up to 5" wide, this hitch bike rack effortlessly accommodates two e-bikes or standard bikes. For those seeking a rack compatible with fenders, the Sport Rider for Electric Bikes is the ultimate solution. Elevate your cycling adventures with the precision and versatility of the Sport Rider Bike Rack.
SPORT RIDER FAQs
Will this Bike rack work for non-electric bikes?

Capacity: Two Bikes (Max. 80 lbs per bike)

Hitch Size: 2" only (Do not use a 1 ¼" -2" hitch adapter)

Maximum bike wheelbase: 60"

Minimum wheelbase: 36"

Maximum tire width: 5"

Features extra heavy duty wheel holders (Now with ratchet straps and rim protectors), an internally reinforced frame, and an external brace for heavy load carrying capacity

Includes keyed-alike locking hitch pin, 8' security cable, and locking frame hooks

Patented "No-Wobble Hitch System" eliminates slack between the receiver and the rack without the use of tools

Folds flat against car when not in use

Tilts down for easy cargo door access

Space between bikes: 10

Now includes two Small Wheel Adapter (SW-ADP-U) for 20" Fat tire bikes rear wheels to prevent derailleur hanger interference (You will only need one per bike) 

For step-through bicycles you will need to also purchase a Bike Adapter

Now includes a red safety strap to help secure the bikes to the central post and to each other

Rack Weight: 58 lbs.

Limited Lifetime Warranty

Not to be used on front hitches

Not to be used with a bike cover

Not to be used with any 1-1/4" - 2" Adapter

Not to be used with any Hitch Extension longer than 8"
Will this bike rack work with a spare tire?

Yes, the distance from the face of the hitch to the center of the 

   innermost bike is 10". If there is not enough clearance between the bike rack and your vehicle, you may use a hitch extender as long as it is under 8". The one listed on our website at Hollywoodracks.com is the Hitch Extender-7".
My rear derailleur is rubbing against the wheel holder on the bike rack.

You can find a couple of small wheel adapters included in the box. You can place it on the wheel holder that your rear wheel is in, it will prevent the derailleur from hitting the wheel holder.
Does my step-through bike need a bike adapter?

Yes, step-through bikes will need a Bike Adapter if they measure less than 15.5" from the floor to the top of the top bar.
Do the hooks lock on this bike rack?

Yes, this bike rack comes with locking hooks as well as a locking cable and a locking hitch pin, all with the same key number.
Great bike rack
I am so glad i bought this just waht i needed
Heavy duty
Rack went together easy and is heavy duty steel. I think it's going to
Be exactly what I need.
Stable and I feel confident it will be there for me for A long time!
Huge Expectations are met!
Just traveled 2 hours away from home with both e-bikes! Solid with no movements! Very pleased with my purchase!
Perfect
I bought this rack for the purpose of transporting my two electric bikes which I also recently purchased. I originally purchased a Thule bike rack But returned that one. The installation was quite easy. The big difference for me was securing the bike throughout the Thule Only supported the bike tires and the top felt wobbly.
My Highwood rack has a bar that slides down and secures both of my bikes, the top as well as by the tires. The rack also includes a locking key pin for the hitch, and also for the top bar that locks down the top of the bike. It also has a key locking cable strap that you can wrap around the bikes.
I only gave it a 4 (would of been 41/2 if I had that option) for 2 reasons. One, there are some spots that are a hard plastic which personally I'm not a fan of. And two I have yet to take it on a long trip. All in all an excellent bike rack.
And I would recommend it to my friends.