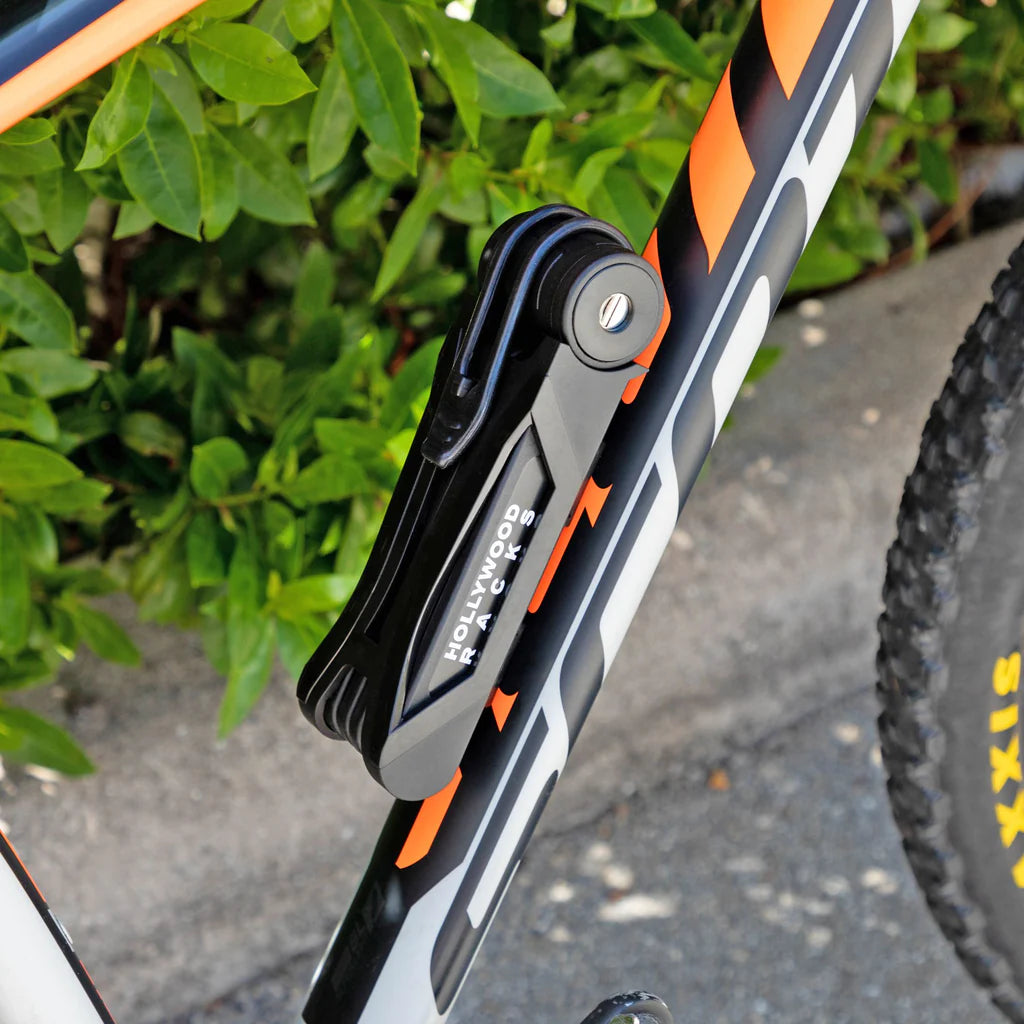 Must-Have Bike Rack Accessories & Other Biking Essentials
Introducing our premier collection of biking essentials! Explore a wide range of top-notch trike racks, e-trikes, and trike bike rack adapters designed to enhance your biking adventures. Our trike racks provide secure and hassle-free transportation for your trikes, ensuring peace of mind during travel. Discover our cutting-edge e-trikes, revolutionizing the biking experience with their electric-powered capabilities and eco-friendly features. Need to adapt your existing bike rack? Our trike bike rack adapters are expertly crafted for seamless compatibility. With our collection, you'll unlock a world of possibilities for trike enthusiasts. Shop now and elevate your biking journey with our innovative products.


1. Folding Lock: Our Folding Lock - The Ultimate Bike Security Solution!
Looking for a reliable way to keep your bike safe? Our Folding Lock is the answer. Crafted from high-strength heat-treated steel, this lock is designed to stand up to the toughest conditions. Worried about scratches on your precious bike? Fear not, as it's coated with protective ABS plastic, ensuring your bike's paint remains unharmed.
What sets our lock apart? It unfolds to an impressive 86mm, easily attaching to bike parking racks, bars, or poles. We've included 4 laser-cut keys for added convenience, and a mounting bracket complete with hardware and secure straps, making it a breeze to attach to your bike. Keep your bike secure with style and ease.
2. Bike Adapter Bar: Your Go-To Solution for Bike Transportation!
Meet the Bike Adapter Pro, your key to transporting bicycles with tep-thru frames or low, sloping top tubes. Whether it's a ladies' bike, a children's bike, a cargo bike, or a full-suspension bike, this telescoping bar has got you covered. The best part? It won't leave a single scratch on your bike's finish.
This heavy-duty, non-twisting tubing comes with a secondary interlocking gate, ensuring your bikes are secure throughout your journey. Say goodbye to bike transport hassles and hello to convenience and peace of mind.
3. LED Safety Light Bar: Stay Safe, Stay Visible, and Ride with Confidence!
Safety should never be compromised. Our LED Safety Light Bar is a must-have for all cycling enthusiasts. Compatible with most bike racks, it makes transporting your bikes safer and more secure than ever.
This flexible and durable LED Light Bar easily attaches to your bike rack, ensuring you're seen on the road. The light can be connected to your vehicle light connection plug to respond to your every move. Its features include brake lights, turn signals, and emergency flashers. Installation is a breeze, and this durable light is a valuable addition to your vehicle's safety features.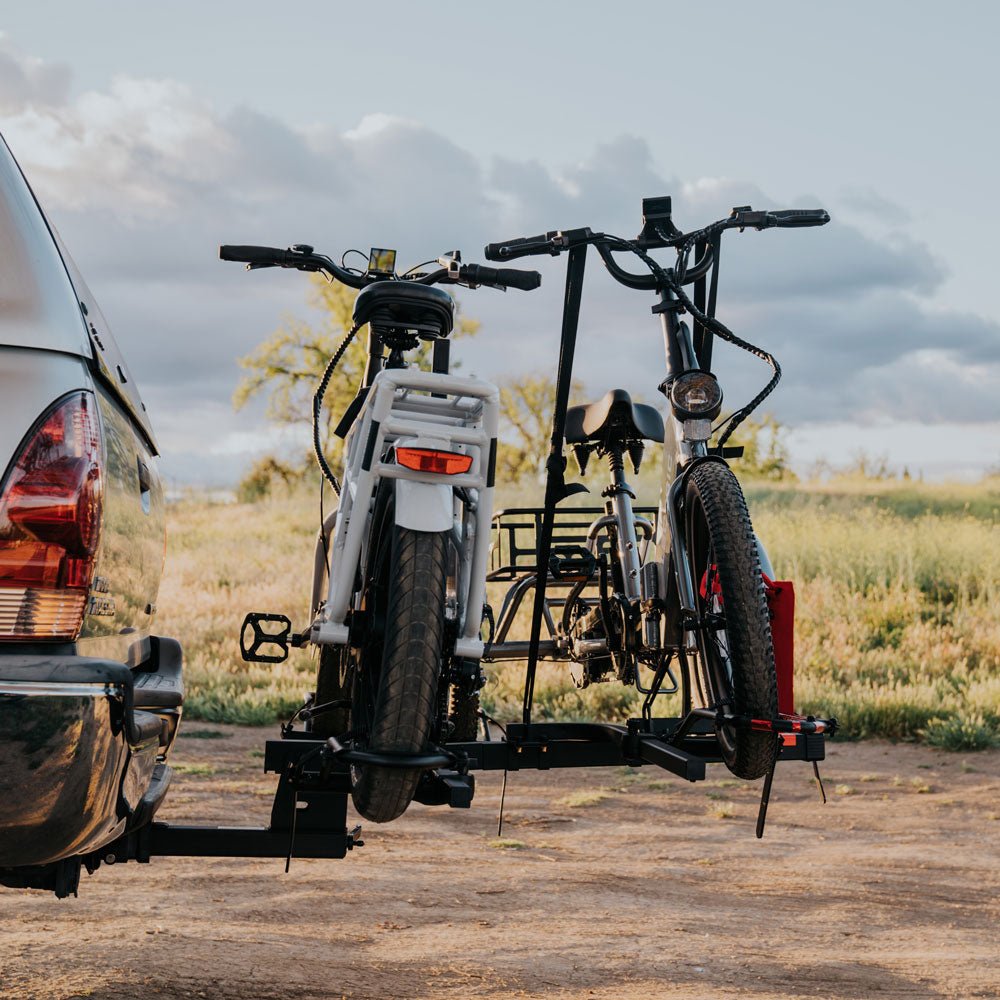 4. Trike Adapter Kit: Bundle and Save - A Limited-Time Offer!
Don't miss our exclusive offer: Purchase the Sport Rider for E-bikes along with the Trike Adapter Kit and save $50. This is a limited-time opportunity you don't want to pass up.
What's included in this unbeatable deal?
The Sport Rider Bike Rack for Electric Bikes: Designed specifically to carry electric bikes with tires up to 5" wide, it can accommodate up to 2 electric bikes or standard bikes. If you have bikes with fenders, this is the rack you've been searching for.
The Trike Adapter TRK-E20: Designed to work seamlessly with the Sport Rider for Electric Bikes, this adapter allows you to transport one E-trike and one E-bike with ease.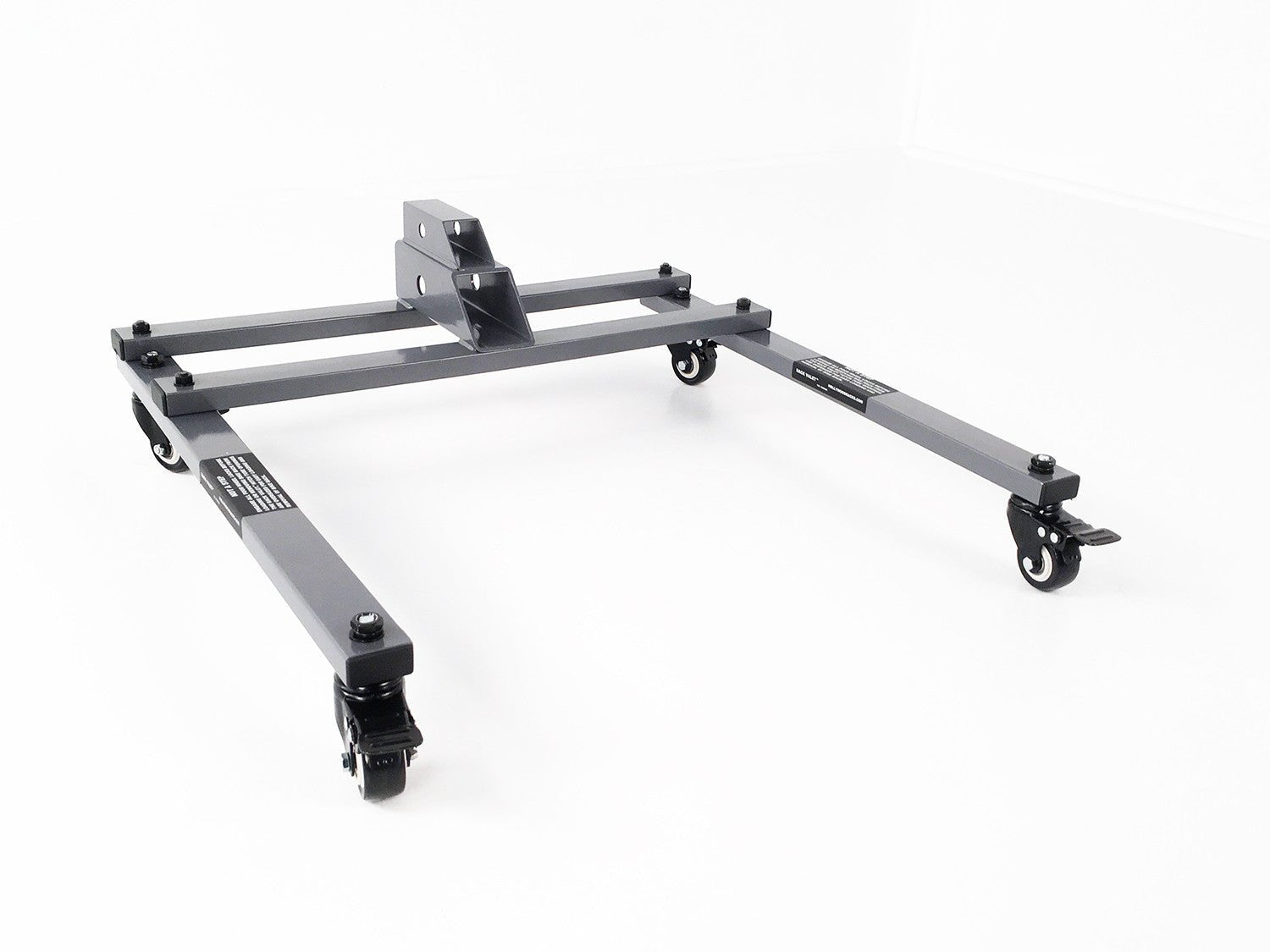 5. Rack Valet: Simplify Your Bike Rack Handling with the Rack Valet!
Tired of wrestling with heavy bike racks? Meet the Rack Valet, your mobile bike rack storage and transportation system. Attach your bike rack effortlessly to the 1-1/4" or 2" slot on the Rack Valet and roll it out to your vehicle. No more heavy lifting or back pain.
Some bike racks can weigh up to 90 pounds, so why struggle when you can simply roll your rack to your car? Enjoy hassle-free transportation with the Rack Valet.
6. Biking Multi-Tool: The Ultimate Biking Companion - Hollywood Racks Multi-Tool!
Every cyclist's dream: a versatile Multi-Tool with all the functions you might need for your bike. Branded with our classic Hollywood Racks logo, it includes:
Philips Screwdriver
Flathead Screwdriver
Socket wrenches (8mm, 9mm, 10mm)
Hex Keys (2mm, 2.5mm, 3mm, 4mm, 5mm, 6mm)
Wrench Keys (10mm, 15mm, 8mm)
Never leave home without your trusty Multi-Tool. It's the all-in-one solution for your biking needs.

Finding the ultimate gift for the bike enthusiast in your life is a thrill. Check out our Must-Have Bike Rack Accessories and Biking Essentials to learn more!