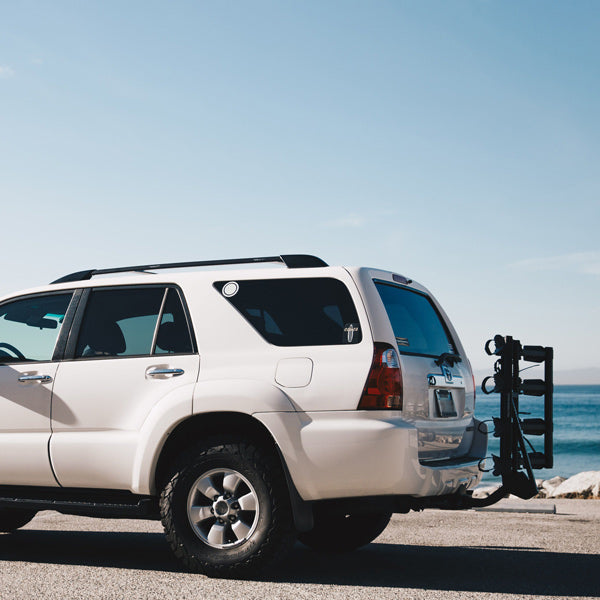 Introducing the Destination Rack
Lightweight Hitch Bike Racks
Looking for a
lightweight hitch mounted bike rack
for your truck or SUV isn't easy, until now. Look no further than our newest bike rack, the Destination Rack. Perfect for outings with friends, the Destination Bike Rack can fit up to four bikes and folds up easily when not in use for safer driving and hassle-free use. Easy to install and easy to use. Whether it's a bike ride along the coast or a trip to the mountains for some downhill action, this hitch mounted bike rack has it all. With space for up to four bikes, you and your riding buddies just found an easier way to get to the starting point of your next adventure.
Carries up to 4 Bikes 
Weighing only 42 pounds this rack also has a lot of great features. It's designed with individual wheel trays to make loading and unloading super breezy and includes padded frame holders to protect your bike even on the roughest roads. It also includes ratchet straps which slide vertically along the center post and rotate 360 degrees to accommodate every shape and size bike frame. The locking threaded hitch pin keeps the rack from swaying during transit and the rack also folds up when not in use for safer driving and convenience. 
Check out our Bike Rack Storage Valet
Looking for a way to store your bike rack when not using it? Then, you're sure to love our
Valet Bike Rack
. Make the trip from your garage to your car smooth and easy, saving some time and energy. Bike Racks can be hard to lift - even our super light Destination Rack - but with the help of our Valet Bike Rack, 
the first mobile bike rack storage and transportation system, rolling your rack right out to your car and back to your garage will be fluent and quick.
What Bike Rack Fits My Car?
Whether you're riding with your friends or family, Hollywood Racks has you covered. Spend more time enjoying your adventure and less time loading and unloading your bikes with the new Destination Bike Rack. Not sure what bike rack is the best fit for you and your car? Check our
fit guide
and find the ideal bike rack for your particular situation.