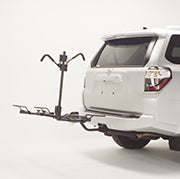 Which Hollywood Car Rack is Best for Electric Bikes?
So I bet you are wondering what the best car rack from Hollywood Racks is for your new electric bike. These bicycles, in Europe, electric bikes take up over 50% of all new bike sales, a trend which is taking the United States of America by storm! E-Bikes are more readily available today than they have ever been. And it just makes sense, that there is no reason of this trend to slow down any time soon.

Did you now, E-bikes are perfect for the school students whom live within a 25mile radious from their school or university and electric bikes are also perfect for those who are looking for saving some extra energy while commuting to an from work, instead of having to sit in dreaded traffic, which we all love I'm sure ,)

Moreover, e-bikes help you get from point a to point b quick and effiecently, more so than an automoible for example. They also have a much less foot print, and they even are way more affordable, than most other options commutuers have on the market today. Now, after you have made the decision to purchase a brand new e-bike, how do you expect to transport it to an from your destination?

And that is when we are asked, What Hollywood Rack is the best for my Electric Bike?

Our rack experts here at Hollywood racks, allways reccomend the Sport Rider SE for Electric Bikes. Our reasoning for this is simple, the Sport Rider SE2 platfrom hitch rack, will carry 2 electric bikes or standard bikes. This rack features include extra heavy duty wheel holders for heavy load carrying capacity. The rack folds up when not in use, tilts down for easy cargo access and includes a keyed alike locking hitch pin and security cable. Features patented no wobble-no tools hitch tightening system.

- Includes keyed alike locking hitch pin and 8' security cable
- Patented "No-Wobble hitch system" eliminates slack without the use of tools
- Easy "press lever to release" frame clamps
- Folds flat against car when not in use
- Tilts down for easy cargo door access
- Limited Lifetime Warranty

This rack is perfect for E-Mountain Bikes, and trike or recumbent style e-bikes, and it comes with a limited liftime warranty.

Just incase, you are wondering, this is why the Sport Rider SE for Electric Biokes, is the best car racks for electric bike racks:

Did you know, that the average weight of eBikes on the market is 52lb - almost twice the average weight of a standard bike! Hoisting over 50 lbs of metal can make loading and unloading a formidable task, which is where the low height of these platform racks comes into play. A lower rack makes it much easier to get your bikes on and off the rack. (Pro Tip: if your electric bike weighs more than 60 lb, you can reduce the weight by removing the battery and carrying the battery inside the car.)

Also, electric bikes are available in a wide rage of bike styles, from a step-through city bike to a full-suspension fat tire bike. In addition, the battery position varies between down tube, rear rack, and seat tube, which may shift the center to be, well...not so center. Both of these variables are best accounted for by carrying the bikes by the wheels. Doing so provides the most stable, flexible offering that accommodates all of these different bike configurations.

So what do you do when you have a heavy ebike?

- Capacity: Two Bikes (Max. 80 lbs per bike)
- Hitch Size: 2" only
- Maximum bike wheelbase: 60"
- Maximum tire width: 3"

Well, the total weight allowed in the hitch has to account for both the bikes and the rack itself. But rest assured, that this particular rack is only made for 2" hitches. So, if you are gonna buy this rack, make sure that you have the correct hitch size.