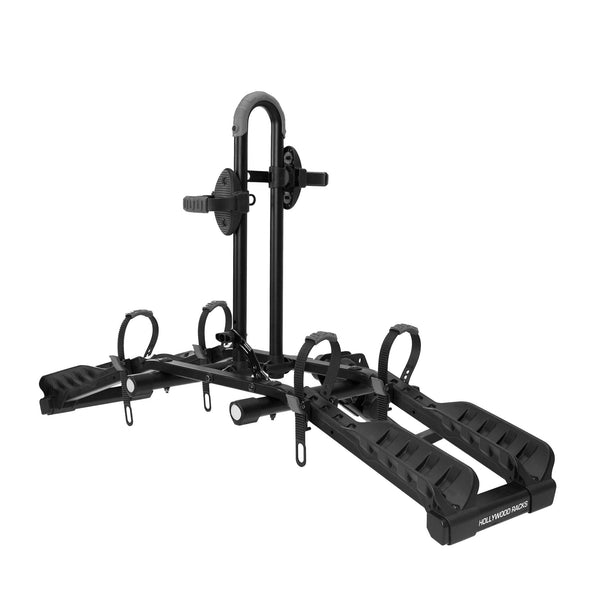 Destination Hitch 2 Bike Rack
$199.99
Destination Hitch 2 Bike Rack
---
Introducing the Destination 2 Lightweight Hitch Bike Rack – your go-to companion for epic biking adventures. Weighing in at just 20 lbs, it's one of the lightest on the market, effortlessly removable when not in use. With easy folding, individual wheel trays, and rotating padded frame holders, loading and unloading bikes of all shapes and sizes is a breeze.
Compatibility

Capacity: Bike Rack Carries Up To 2 Bikes (Max. 35 lbs. per bike)

Hitch Size: fits both 1 ¼" - 2"

Wheelbase: Max 48"

Tire Width: Max 3"

Bike Size: Fits 20" bikes - 29ers/700c bikes

Assembly: Comes fully pre-assembled
The Destination Bike Rack is our lightweight hitch rack for 1-1/4" and 2" hitch sizes. This lightweight hitch bike rack (20lbs) securely carries 2 bikes and is easy to install and easy to use. Designed with individual wheel trays to make loading and unloading quick and easy. The racks padded frame holders slide vertically along the center post and rotate 360 degrees to accommodate every shape and size of bike frames. The included locking threaded hitch pin keeps the lightweight hitch bike rack from swaying during transit and the rack also folds up when not in use for safer driving and convenience. Fits 1-1/4" and 2" hitches.
Read more >
Find a Retailer Near Me
Strong yet light. Easy to install and easier to love. Meet the Destination 2.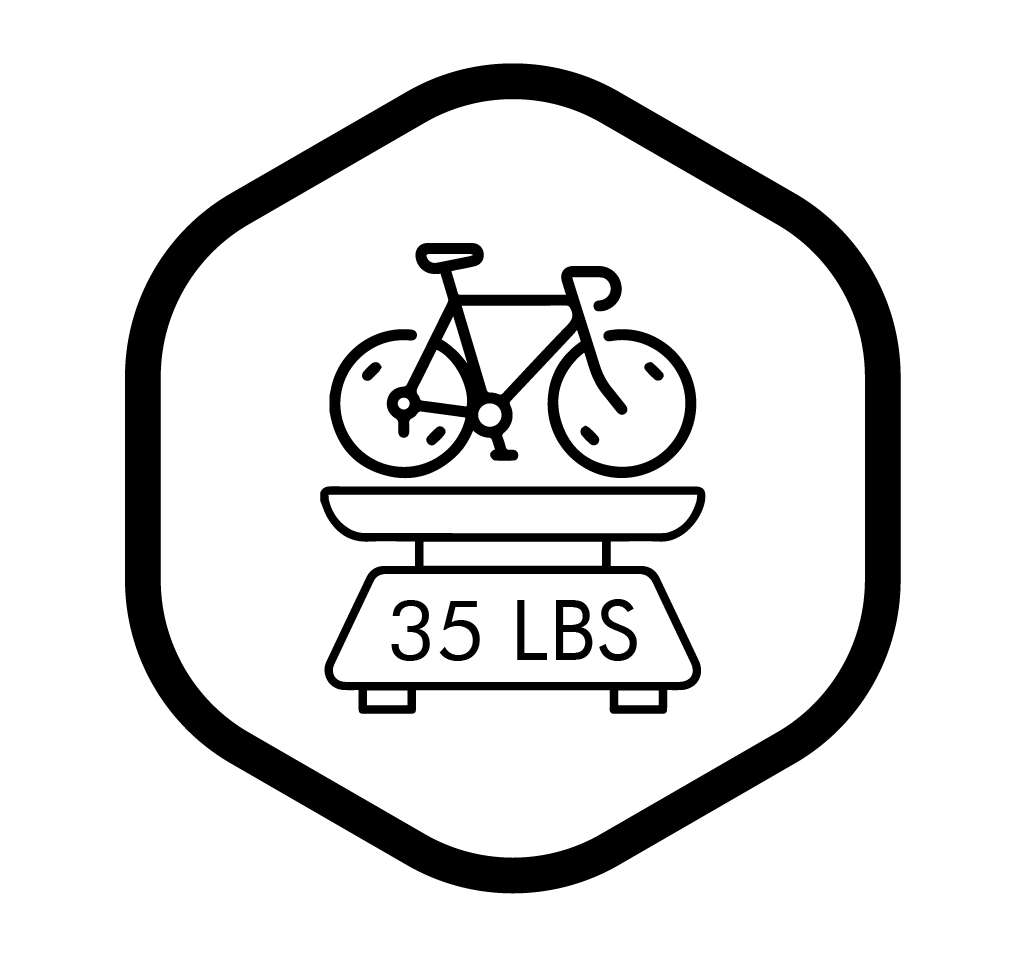 BIKE WEIGHT CAPACITY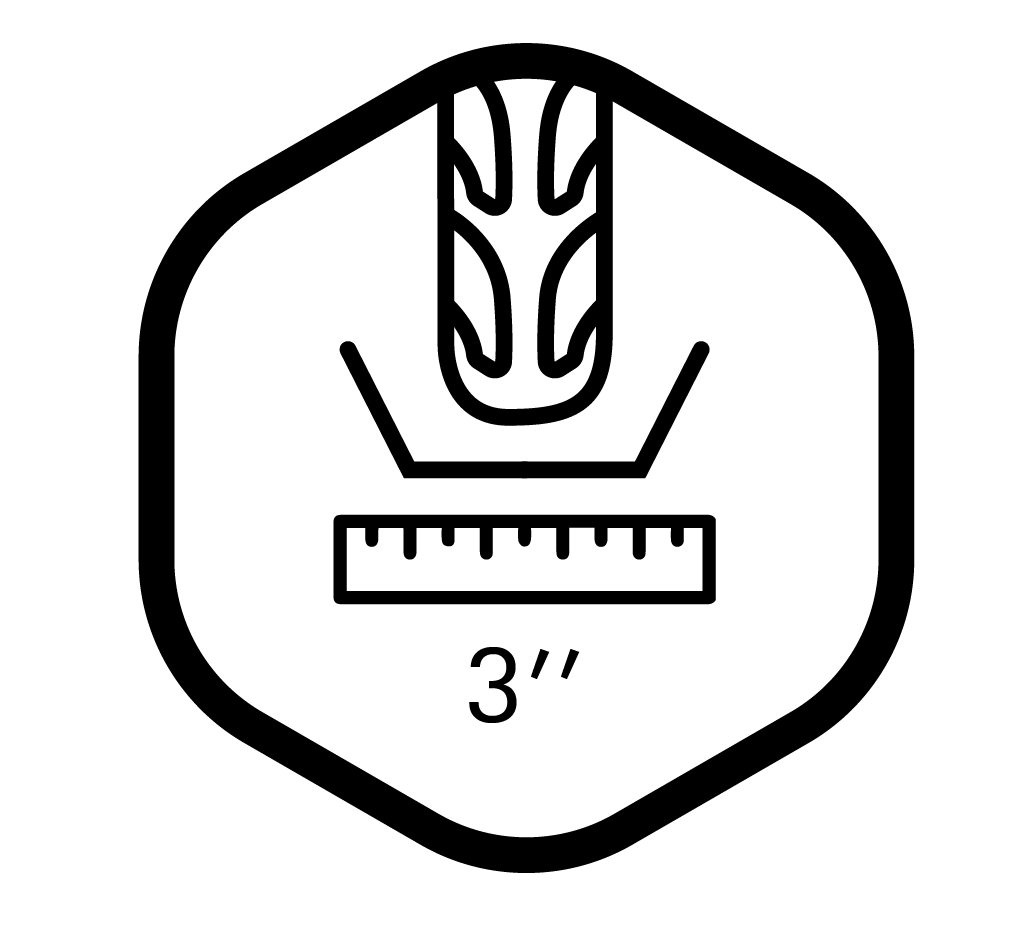 MAX. TIRE WIDTH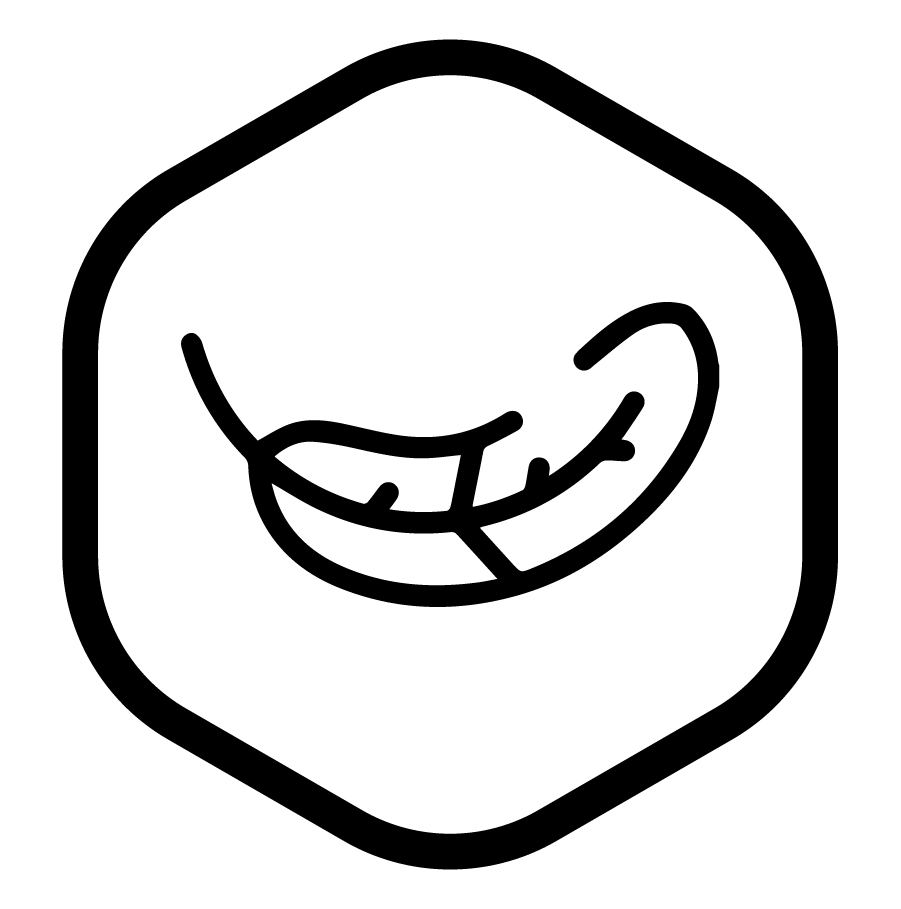 LIGHTWEIGHT BIKE RACK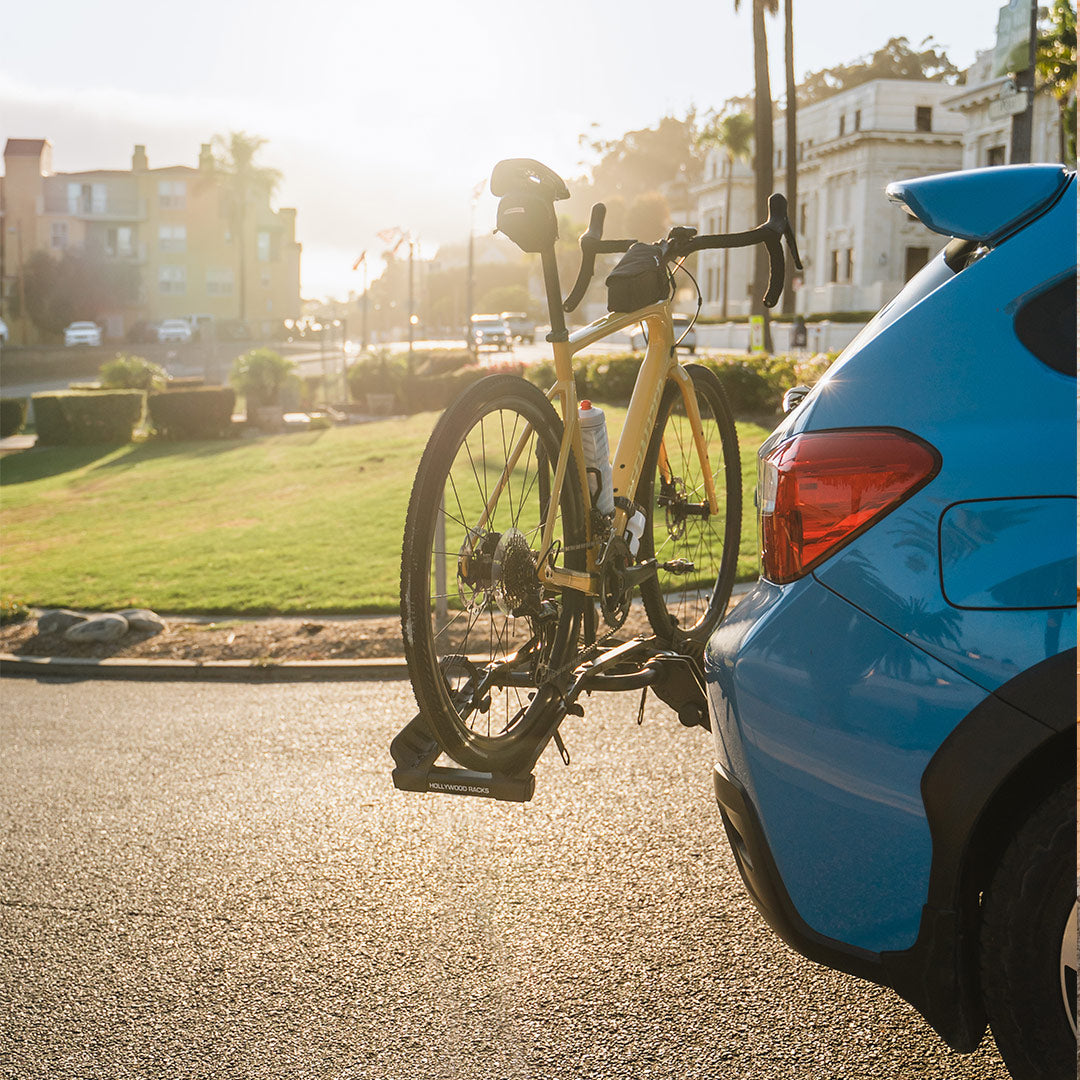 Unmatched Durability.
The Destination 2 Bike Rack, like all of our bike racks, come with the Hollywood Racks warranty and the Strong, Simple, and Secure promise.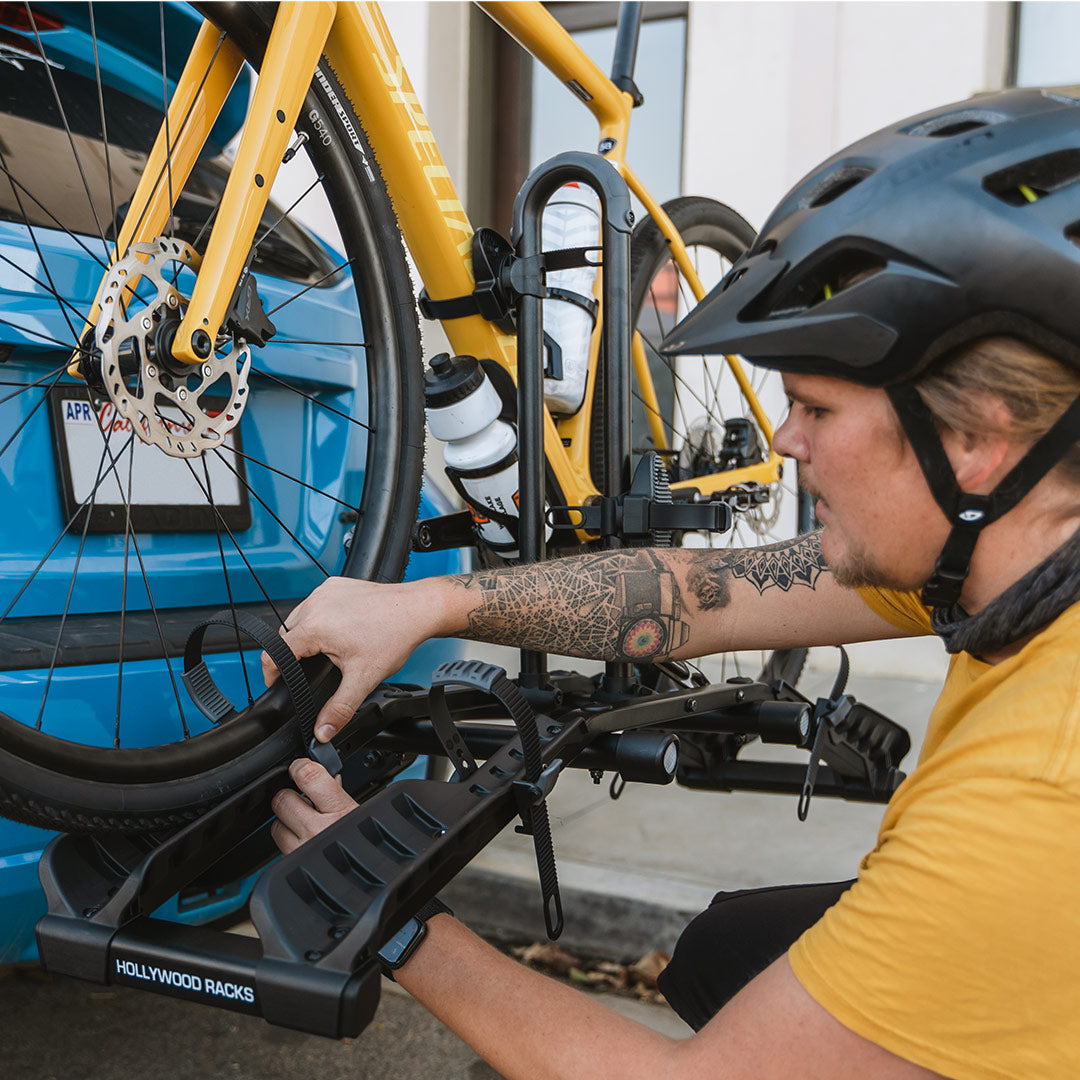 Lightweight Convenience.
Easy to install and easy to use, this bike rack was designed with your busy lifestyle in mind. Less time getting ready = more time on the trails.
The ideal bike rack to get started.
Strong, simple, and secure, the Destination 2 has everything you need on a bike rack and more. One of the lightest on the market is waiting for you today.
Explore new trails, new adventures, and new places with the Destination 2.
DESTINATION 4 FAQs
Is there an attachment to convert the Destination 2 into a Destination 4?

No, there is not. The Destination 2 is a standalone bike rack. There are no add-on kits available for it.
How heavy is this bike rack?
Do I need a bike adapter for a step-through bike on this bike rack?

No, you do not. This bike rack has 360-degree rotating padded frame holders that can slide up and down which will allow you to attach the frame holder to any part of your bike that it reaches.
Does this bike rack come with a lock?

The Destination 2 comes with a locking hitch pin, however we also offer locking cables that you may use to further secure your bikes and bike rack.
2 BIKE LIGHTWEIGHT RACK
AWESOME EASY TO INSTALL FAST SHIPPING GREAT OPTIONS
Excellent customer service
Great product and even better customer service
One year review.
It's been one year since I purchased this bike rack. Still looks new except for some minor wear on the hitch. I try to remove it when I'm not using it and store in in the garage. First let me say that the support at the time of purchase was exemplary. I had an issue with the size of the bolt as I have a 2.5" receiver and the standard bolt did not fit. Th company sent me one right away. I use this rack probably 5-8 times a month. Sometimes it's a 10 mile drive but I've done upwards of 600 mile round trips without issues. Would I buy this again? Yes, without any hesitation.
Perfect
For someone who is looking for a bike rack at a great price, this is for you. The rack does the basics very very well.