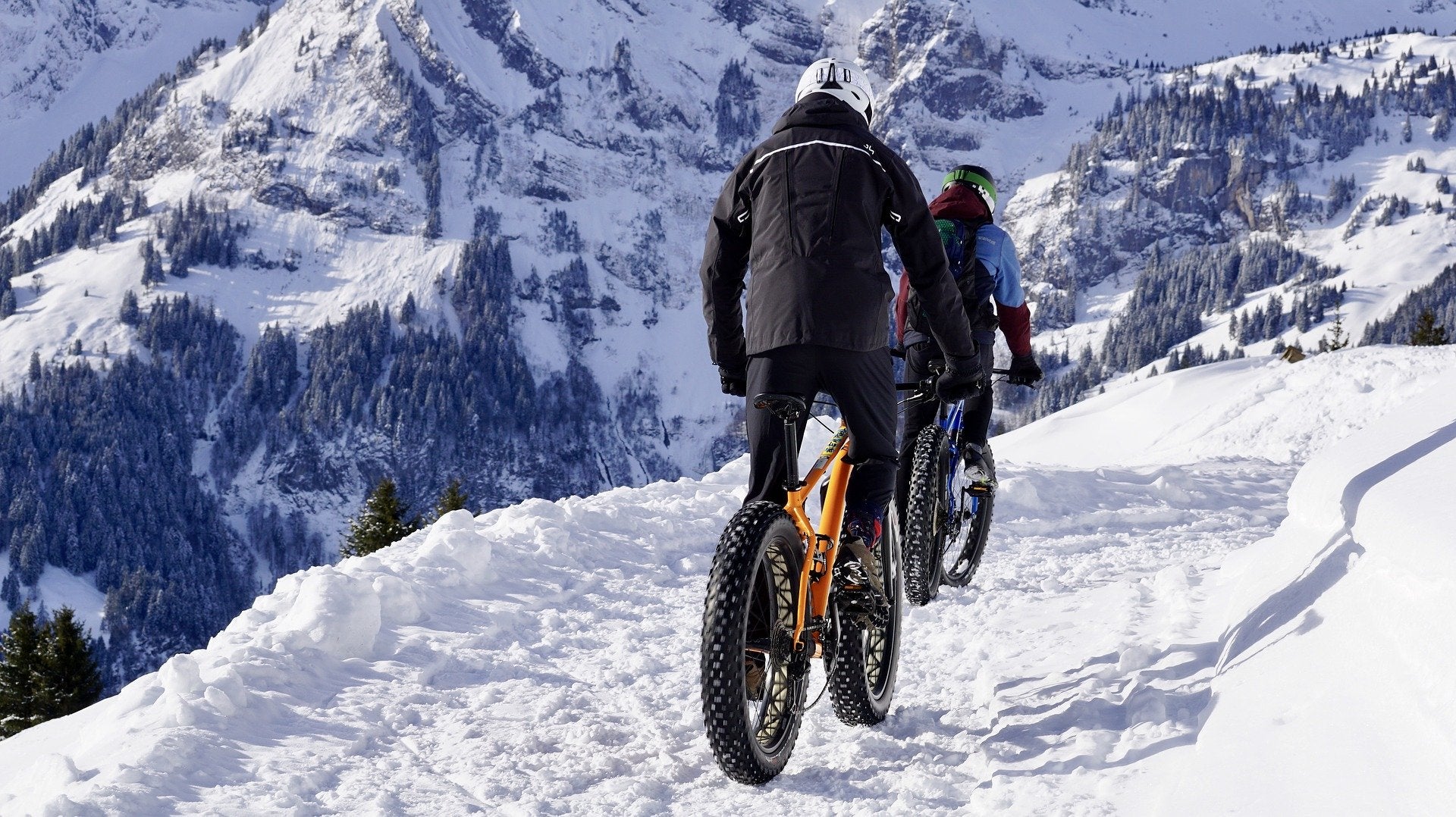 Fat Tire Bikes Are Here - Everything You Need To Know About Fat Tire Bikes
Now that the holidays are over and it's time to get back to real life, winter feels a lot less magical and has become something that we're counting down the minutes of. And we're right there with you, especially with all of the winter storms we've been seeing lately. But luckily for all of us, fat tire bikes make that countdown feel a little less pressing. 
Before we sing their praises too much, it's important to look back at the history and see where they came from. Fat tire bikes first entered the scene in 1987, where they were developed simultaneously in Alaska to deal with the ice and snow and in New Mexico for riding on the sand. In Alaska, the first versions were made by combining two tires side by side, and then they were updated to a single low-pressure wheel that was lightweight enough for easy transportation, which is what we saw out of New Mexico. 
Today, fat bikes are the only way that most bikers around the country can keep traveling no matter what the weather throws their way. With the large size and low tire pressure, they keep your ride smooth and easy, acting as shock absorbers, while also giving you more balance and control. And the second you take one for a spin on packed snow, you'll know exactly what you're talking about. And, even better, they aren't designed only for winter riding — they can handle every type of terrain, so you don't have to worry about switching out your tires with each season or when you're traveling between different climates. They can also be ridden at any speed, whether you're doing a leisurely trail ride or you're looking for a more rigorous, fast excursion. 
Now when you look at a fat tire bike, you might think that because it's bulkier, it will be more difficult to transport. But you know that we already have a solution for you. Whether you're driving your bike to some snowy runs nearby or you're making a cross-country trip to hit all of your favorite spots, the Sport Rider SE Hitch Bike Rack for Fat Tire Electric Bikes will keep your bikes secure and safe. This fat tire bike rack is heavy duty enough to hold two electric fat tire bikes, but you can also use it for regular fat tire bikes. And when you're not transporting your bikes, the rack will fold up against your car to keep it out of the way and will tilt down so you can still access your trunk. And while you're at it, make some bigger adventure plans with one of our bike trail travel guides.   
We want to hear why you love your fat tire bikes and where you love to ride them most! Comment and let us know what you think, and then find us on
Facebook
and
Instagram
, and see more biking tips and travel inspiration by signing up for our
newsletter
.