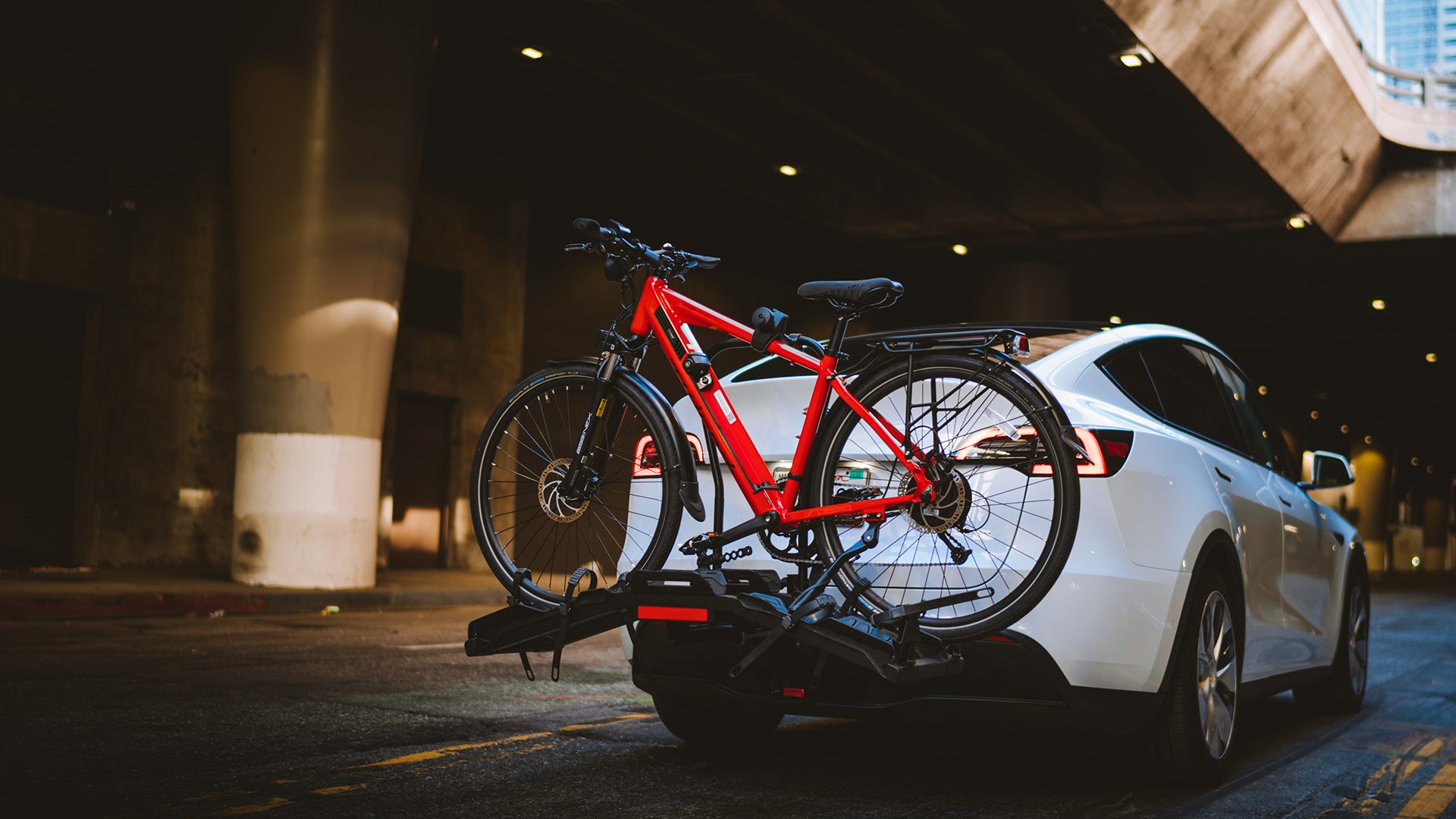 Introducing Our Newest E-Bike Rack
After a great response at the official presentation of our newest product in the electric bike rack category from the media and the people at the Electrify Expo in Long Beach last weekend, we want you to meet the Destination E, our newest bike rack for electric bikes.
The Destination E for Electric Bikes is our new hitch bike rack designed specifically to carry electric bikes with any sized tire up to 4.5" wide. This new bike rack has a sleek and modern design and can carry up to two 70 lb. electric bikes or standard bikes. It includes an expandable, wide aluminum ramp so you can load and unload your bikes easily. The Destination E hitch-mounted bike rack can fold flat against the car when not in use and features "balanced tilting" where the pivot point is between the bikes for easy trunk access when the bikes are loaded.
TL;DR: Destination E main features:
EXPANDABLE, WIDE RAMP FOR EASY LOADING & UNLOADING: Loading & unloading your E-bikes has never been easier — easy on your back and easy on your bike!
TILTS DOWN FOR EASY TRUNK ACCESS: No need to unload your bikes to get your helmet, backpack, or to let the puppy out. The Destination E rack features "balanced tilting" with the pivot point between the bikes making tilt down as easy as it gets.
NO-WOBBLE HITCH SYSTEM TAKE YOUR BIKES EVERYWHERE: Eliminates slack between the receiver hitch and rack without the use of tools. Quick and easy rack installation gets you on the road faster with a more secure fit.
LOCK & GO KEYED ALIKE MOVABLE LOCKING FRAME CLAMPS: We know how precious your bikes are to you so, we added an extra layer of security for your peace of mind. Keep your bikes secure during travel.
Looking for a bike rack for your electric bike racks? Look no further, order your Destination E, today.