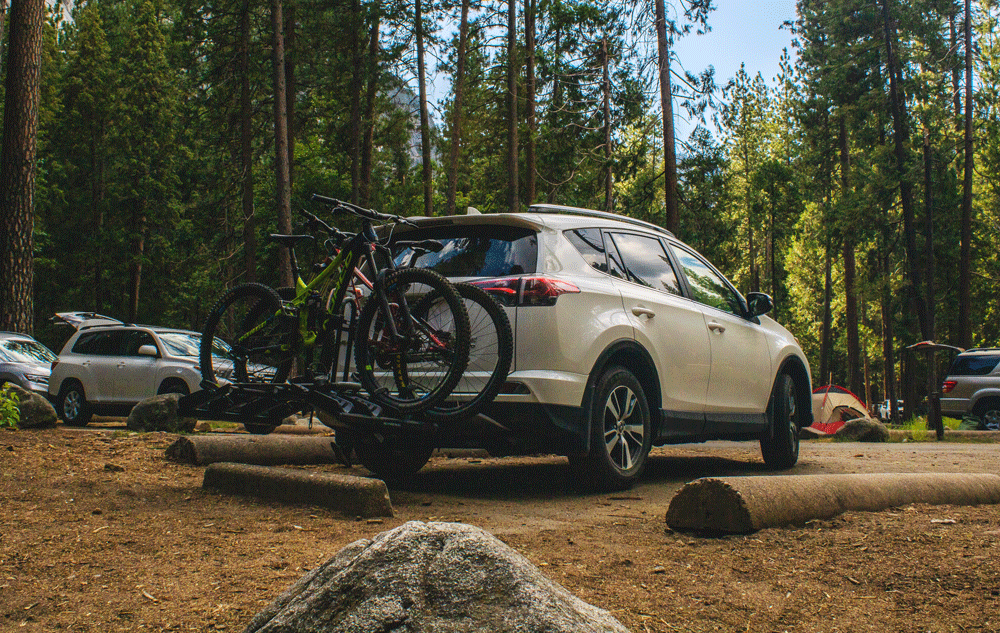 The Ultimate Hitch Size Guide for Your Bike Rack
Choosing and installing a Hitch Bike Rack
Every cyclist can agree on one thing: life would be so much easier if only we could magically bring our bikes wherever we need to. And while that isn't the case (sorry to break it to you), we want to make transporting bikes as simple and straightforward as we can for you. Having a hitch bike rack is a great solution since they're the most secure, easiest for loading and unloading your bikes, and you also don't have to worry about knocking your bike off of the roof when you're pulling into a garage (oops). And for biking families, they're even more ideal since they can fit several bikes at the same time and some even have space for accessories. Once you've installed the hitch bike rack, you just have to secure your bike; making a quick day trip to the mountains too easy to turn down. 
Start this process by measuring the size of the hitch on your car (the width of the receiver opening). There are four different sizes, so yours will either be 1 ¼", 2", 2 ½", or 3". The two most common hitch sizes are 1 ¼" and 2". Although some newer vehicles use a 2.5" which we have an adapter for.  
Another important thing is to note the class of your hitch. The class is based upon how the hitch is manufactured and attached to your vehicle. Here's a quick guide about the different hitch classes.
Hitch Bike Rack Comparison
The next step is the fun part: you get to shop for the bike rack that best suits your needs, whether you're looking to travel with two fat-tire bikes or you're taking a four-person biking trip soon. Each bike rack works with one corresponding hitch size, but we've listed that for you so you don't have to do too much digging. 
Choosing Your Bike Rack
Road and Mountain Bikes
Bikes with standard frames generally work well with any type of rack that mounts to the hitch, whether you're looking for hanging or platform. The best way to pick is to first decide how many bikes you want to carry and how you want the bikes to attach to the rack. Each rack has different benefits that may be better for your situation.
Step-through Frames and Kids Bikes
Ladies and kids bikes commonly use a step-through style frame. When attaching one of these bikes to a rack, it is often necessary to use a bike adapter bar.
Carbon Fiber Bikes
With a carbon fiber bike frame, it is best to avoid making actual contact with the frame when transporting your bikes. Our TRS racks are best for these types of bikes.
Hanging racks versus platform racks
It can be tough to decide between a hanging rack or a platform rack if both options work for your bike, so here are some of the top features and notes to keep in mind between the two.
Hanging bike racks:
Weigh less than platform racks

Generally cost less

They do come in contact with the frame
Platform Bike Racks:
Easier to unload and load

Heavier carrying capacity

Increased space between bikes
Now that your car is ready to bring your bike on any adventure you can dream of, make sure you follow us on Facebook and Instagram and sign up for our newsletter for more biking tips, inspiration, and trip ideas. You can also check out our Fit Guide to find the ideal bike rack for your vehicle.