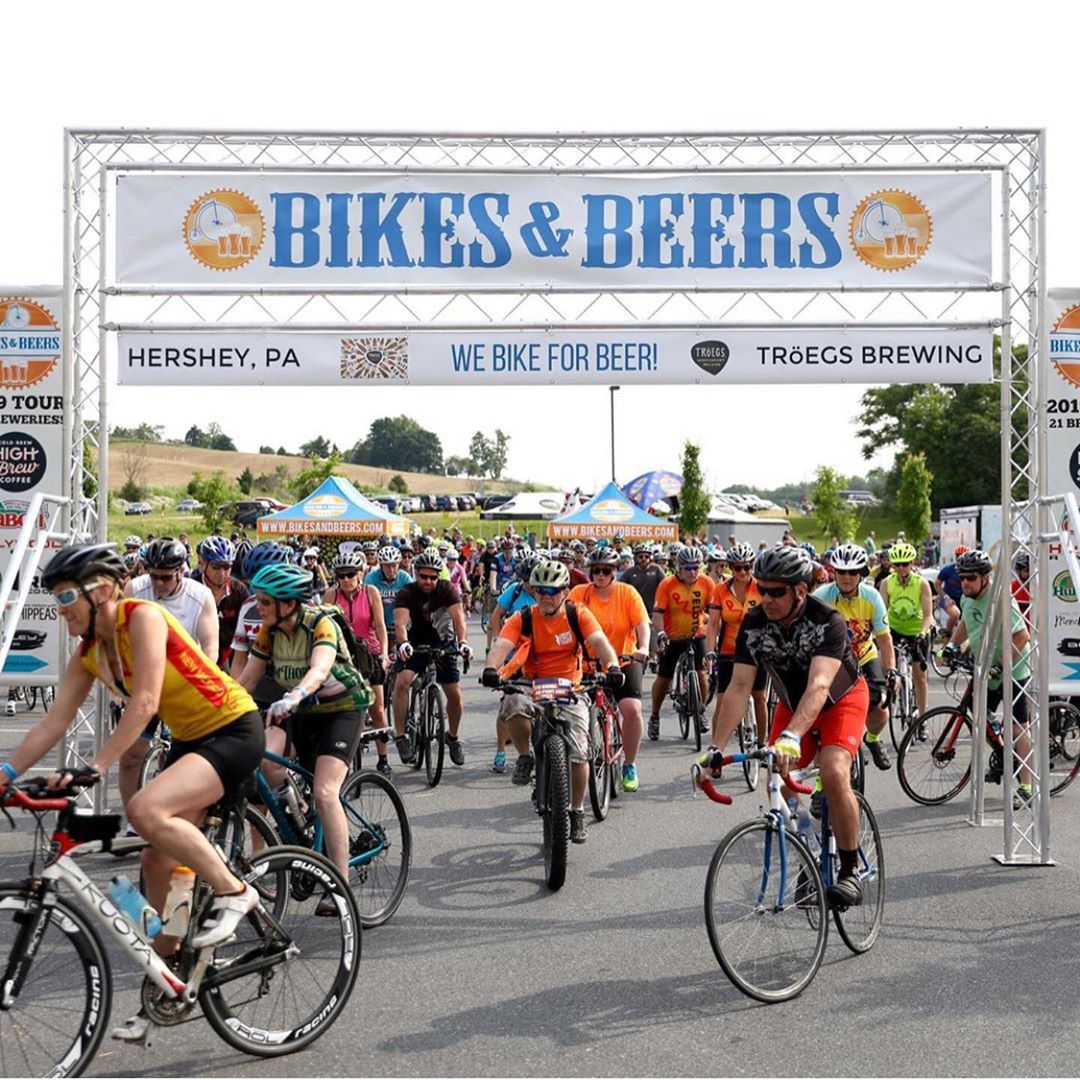 Upcoming Bikes and Beers Events in 2019
Summer is best when paired with two of our favorite things: bikes and brews, which is why the national Bikes & Beers events that we sponsor are so great. Each biking event lets you choose between a 15-mile and a 30-mile bike ride, which you get to enjoy with all of your fellow cycling beer-enthusiasts. After your ride (which has pitstops for snacks along the way), you'll make your way back to the hosting brewery where you get to enjoy your well-deserved two free beers. But that's not where things end. While you're sipping, the breweries will also have live music, food, and a raffle where you can win anything from a Hollywood Racks bike rack to a new bike. 
You'll get a free raffle ticket just for biking your heart out and enjoying a great summertime cycle. If you want to buy more tickets, you can feel good knowing that the proceeds benefit different local cycling charities that set out to improve laws, infrastructure, and policies in your city. Make sure you register soon, we don't want you to miss out!
Here are all of the upcoming biking events from Bikes & Beers! 
CALIFORNIA
Chico Sierra Nevada September 7, 2019
This is the third year that Chico is hosting the event, and it's going to be bigger than ever. Before you take off on your ride, you'll get to enjoy free High Brew coffee and pastries so you're ready to cruise. 
San Diego Societe Brewing Company November 16, 2019 
Of course, the bike ride around San Diego is the main highlight of this event, but once you're done, the food trucks will be a welcomed treat. Well, that and the two beers.
MAINE
Freeport Maine Beer Company September 21, 2019
This is our first foray into Maine, and we are as excited as ever! You'll get to see the beautiful coastal town of Freeport on your ride and then settle in for a live band when it's all done.
MARYLAND
Laurel Jailbreak Brewing Company August 10, 2019
If you've been waiting patiently for us to finally make our way to Maryland, your wish is our command! Checking out Jailbreak's fantastic space is one thing, but doing it after a great bike ride is an experience you don't want to miss. 
MICHIGAN
Kalamazoo Bell's August 24, 2019
Sure you could crack open a Two Hearted Ale while relaxing on your patio, but that's nowhere close to the experience you'll have enjoying it alongside all of the other bikers at Kalamazoo's third annual event. Sweat, sip, and be merry. 
NEW HAMPSHIRE
Hampton Smuttynose Brewing Company July 20, 2019
We're so glad that the state of New Hampshire is welcoming us for the first time, and we are sure it won't be the last. With live music, food trucks, and that coveted new bike ready to be won by one lucky attendee, you can't miss out. 
NORTH CAROLINA
Mills River Sierra Nevada September 28, 2019
We had the best time at the Sierra Nevada brewery last year, so we just had to make our way back this year. Not only do you get to enjoy cruising around Mills River and two refreshing brews after you're done, the proceeds go to Conserving Carolina, so you can feel even better about your day. 
OHIO
Cincinnati Rhinegeist Brewery September 14, 2019
Everyone who's been to Rhinegeist Brewery knows that they have the best beers, so if you weren't already convinced to take on a quick 30-mile bike ride, you better be now. You even get to take home a pint glass with our logo, so you'll always remember Cincinnati's first annual Bikes & Beers event. 
Columbus Brewdog October 5, 2019
If biking in the glaring sun isn't your cup of tea, this October event (hello, autumn breeze!) was made for you. You'll find plenty of bikers who love beer just as much as you, but make sure you also bring your friends for the ultimate fall day out!
PENNSYLVANIA
Parkesburg Victory Brewing Company July 13, 2019
If 30 miles wasn't quite enough to wet your whistle, don't you even fret — we added a 45-mile route to this event! The charity of the day is the Bicycle Coalition of Greater Philadelphia, so you can cruise easily knowing you're helping bikers just like you. 
Philadelphia Yards Brewing Company October 12, 2019
This has been one of our longest-running events, and we're coming back for our sixth year! If you've been wanting to explore Yards Brewing Company, you might as well go on a 15-, 30-, or 45-mile ride first.
SOUTH CAROLINA
Columbia Doko Meadows Park October 26, 2019
You lucky South Carolinians don't even know how good you have it — this even features three different breweries all coming together for the best fall party! Take a refreshing 15- or 30-mile ride and then settle in for the rest of the day. 
TENNESSEE
Nashville Yazoo Brewery August 3, 2019 
Thanks for the warm welcome, Nashville! Our first annual ride at Yazoo Brewery is definitely one you don't want to miss out on. And with the event supporting Walk Bike Nashville, you might as well stock up on those raffle tickets. 
VIRGINIA
Richmond Stone Brewing Co. October 19, 2019
Featuring free High Brew coffee and pastries to start your day, snack pit stops during your ride, and beers and food trucks at the end, you'll be feeling fresh all day long. Plus, you get to take home that sweet pint glass and Bikes & Beers koozie, so what are you waiting for?
Which breweries and rides are you most excited about? We want to hear what you think! Find us on
Facebook
and
Instagram
, and then get more summer biking tips and inspiration by signing up for our
newsletter
. For these summer bike adventures and more, make sure your car is fully outfitted and ready to take on the challenge with one of our favorite
bike racks
.